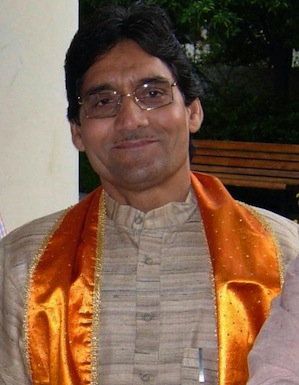 A renowned
Rasiya, Raasleela, Swang, Bhagat, and Nautanki singer, Katha vachak,
composer, actor, writer, director, and music teacher, Pandit Ram Dayal Sharma has won numerous awards and citations for his work.
He is a visiting professor and examiner in music and folk theatre at the National School of Drama, New Delhi. Hindi film actors Ashish Vidyarthi, Ashutosh Rana, and Anoop Soni are among the many notable students who have learned musical theater from Panditji there. Dr. Devendra Sharma, his son, is also a famous director, writer, actor, and singer. Pandit Sharma has also taught at the Jamia Millia Islamia University, Lady Irwin College, and Zakir Hussein College, University of Delhi. He has conducted theater and music workshops across India and abroad.
Pandit Sharma belongs to the famous Swami-Khera Gharana of Raasleela, Swang and Nautanki and is the present Guru of the Gharana. His musical and theatrical compositions have been performed in Theatre Royal and Tara Arts, London U.K., U.S.A, Japan, Germany, Bulgaria, South Korea, Thailand, Norway, and in other national and international arenas. He has participated in programs organized by UNICEF, Sangeet Natak Academy, National School of Drama, Prithvi Theatre, Sahitya Kala Parishad, Apana-Utsav, Urdu Academy, NT.P.C., and Sarthi group all over India. In 2003, he was invited by the Indira Gandhi National Center for the Arts (IGNCA), New Delhi, to perform in the international seminar on mudras (gestures) found in Indian performing traditions. Again, in 2008, IGNCA invited him to perform Ramlila in Nautanki style. He was also invited by the Madhya Pradesh government as an expert artist and scholar in the international Ramayan Sammelan. In 2006, Panditji was invited by California State University, USA, to perform folk music of India and also lecture upon it for the benefit of students, faculty members, and community members in Fresno, California. Recently, he has been invited for several concerts in the San Francisco Bay Area, including at CounterPULSE, San Francisco, USA (a non-profit organization that supports innovation and presentation of traditional arts), the Center for South Asia Studies at University of California, Berkeley, USA, and the Bay Area Youth Vaishnav Parivar (BAYVP).
Pandit Ram Dayal Sharma was nominated by the government of India on the expert committee to advise the Ministry of Defense on the selection of the tableaux/school children for the Republic Day Parade (2004 & 2005).
Pandit Sharma's credits as performer, director and composer of Swang, Bhagat, and Nautanki productions are too numerous to list (over 2,000 performances). Some of the notable ones, which he also wrote and designed, are: Ji Hazoor, Beti ka Byah, Shri Krishna Sudama, Lakar hara, Roti Kapara Ghar, Harit Vahini, Subah ka Bhoola, Raja Bharthri. The traditional performances in which he acted and sang include: Amar Singh Rathore, Indal Haran, Mastani Gujari, Satyavan Savitri, Alha-Oudal, Padmavati, Jhansi Ki Rani, Syah Posh (Pak Mohabbat), Harishchandra Taramati, etc. In addition to Swang, Bhagat, and Nautanki, Panditji is also a specialist in Rasiya, Raslila, Alha, Dhola, Hori, Bhajans, Katha Vachan, Saang and Ramlila. He has performed as a Vyas (main story teller) and written scripts for many prominent Ramlilas of Delhi like those of Ramlila Maidan, Ashok Vihar, Shalimar Bagh, and others.
As composer and actor/singer, Pandit Ram Dayal Sharma has contributed to numerous theatre productions in India: Agra Bazar (Dir. Habib Tanvir), Sharvilak and Chuppu Khaan (Dir. Bansi Kaul), Ganga Maati (Dir. R.G. Bajaj), Mithya Abhimaan, Paryavaran, Andher Nagari, Harayali (all Dir. By Shanta Gandhi), Chuk-Chuk gadi (Dir. Dr. Mayer from Germany), Naya Gokul (Dir. J.N. Kaushal) and Motu Ki Moonch (A puppet play dir. By Dadi Padamjee) amongst others, all of which he performed in as actor and leading singer.
Pandit Ram Dayal Sharma has composed music and done playback singing for films and electronic media, including "Tadak dham dham" (Dir.by Ramesh Sharma and Pankaj Bajpayee) "Rehna Nahin Des Birana Hai" (a 16 m.m. film), five short films for HRD Ministry, Sangharsh a serial for National Literacy Mission (all directed by his son, Dr. Devendra Sharma), a telifilm "Kaun" (Dir.by Ajay Sharma) and two telefilms (Dir. by Ashok Chakradhar), amongst others. He co-composed with B.V. Karanth a musical score for Prema Karnath's latest film in which he also played the lead role and did the playback singing. He has guided a full length Nautanki--Pak Mohabbat (dir. by Dr. Devendra Sharma)--for ETV-Urdu that was telecast on its launching day. Pandit Ram Dayal Sharma is also a regular broadcaster on All India Radio and Doordarshan (India's National Radio and T.V. channels) and other television channels.
In 1992, Panditji was invited by the British Broadcasting Corporation (BBC), London UK, to deliver three talks on Indian folk music and theatre.
Panditji is the chairman of Brij Lok Madhuri, a non-governmental organization devoted to the promotion of India's folk arts. Under his guidance, from 1999 to 2004, Brij Lok Madhuri conducted a folk media campaign (launched in more than 10,000 villages in Uttar Pradesh) and trained more than 150 troupes in five folk forms--Nautanki, Alha, Birha, Qawaali and Magic--to give messages of women's empowerment, reproductive health, and HIV/AIDS prevention. More than 10,000 performances have been done in the villages all over Uttar Pradesh. Panditji wrote the scripts for these performances. The campaign was organized by SIFPSA (State Innovation in Family Planning Services Agency) U.P., aided by USAID and John Hopkins University, USA. Brij Lok Madhuri has also given expert consultation to projects organized by such institutions as Population Communication International (PCI) New York, Ohio University, and California State University, USA. In 2007, Panditji co-designed a UNAIDS folk media action campaign against HIV/AIDS. Brij Lok Madhuri is registered with and is on the reference panels of such esteemed organizations as Sangeet Natak Academy and the Indian Council for Cultural Relations (ICCR).