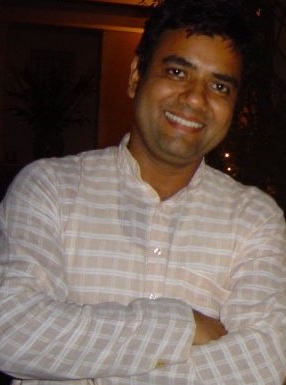 Dr. Devendra Sharma is a performer, writer, and director of Swang-Nautanki, Raaslila, Bhagat, and Rasiya, the traditional musical theater genres of northern India. He belongs to a long lineage of Swang-Nautanki exponents going back at least four generations. Dr. Sharma was trained in the famous Swami-Khera Gharana (school) by world-renowned folk guru, Pandit Ram Dayal Sharma. He has given more than 500 performances to date worldwide, and directed many films illustrating Indian folk traditions. At present, he is an Associate Professor of Communication at California State University, Fresno. Dr. Sharma's artistic mission is to use the indigenous performing arts to bring critical attention to contemporary global issues and empower marginalized people.
Dr. Sharma's research interests center on Persuasion for Social Change; Performance and Communication; Popular Culture; Communication for Community Engagement; and Entertainment-Education Communication Strategies. In 2000, Dr. Sharma was a Packard Foundation/ Population Communication International Fellow from India at the University of Southern California's School of Cinema-Television and Annenberg School for Communication. His publications include book chapters in Development Communication in Directed Social Change: A Reappraisal of Theories and Approaches; Entertainment-Education and Social Change: History, Research, and Practice; and Communication Activism: Media and Performance Activism, as well as a number of peer-reviewed journal articles.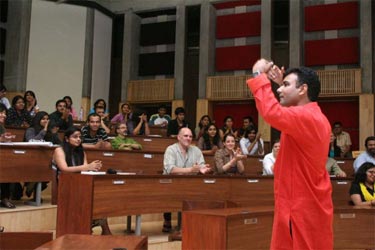 Dr. Sharma giving a presentation on Nautanki at the
Foundation for Liberal Arts and Management (FLAME)
Pune, India
Dr. Sharma has given numerous guest lectures, conference presentations, and performances, including at University of London's School of Oriental and African Studies, University of California at Berkeley and Los Angeles, University of Texas at Austin, Indian Institute of Technology-Delhi, University of Delhi, and Population Communication International (PCI), United Nations Plaza, New York. He has facilitated many "Participatory Theater for Social Change" workshops, including one for communication and theater students at Central Michigan University. In early 2012, Dr. Sharma taught a course on folk theater at the national Film and Television Institute of India (FTII). At the end of the course, Dr. Sharma directed a Nautanki production with acting students at the institute.
In June 2010, Dr. Sharma was invited to the Théâtre du Soleil in Paris, France, by Ariane Mnouchkine, the world-renowned French theater director. As part of his visit, he worked with artists of the theater to put on a lecture demonstration on Nautanki. In August 2010, Dr. Sharma performed in "Agra Bazaar" as part of the National Theatre Festival at the Nehru Center, Mumbai with the world famous Naya Theatre Group founded by renowned theater director Habib Tanvir. Dr. Sharma and his father, Pandit Ram Dayal Sharma, have been performing in "Agra Bazaar" with Naya Theatre Group for more than two decades.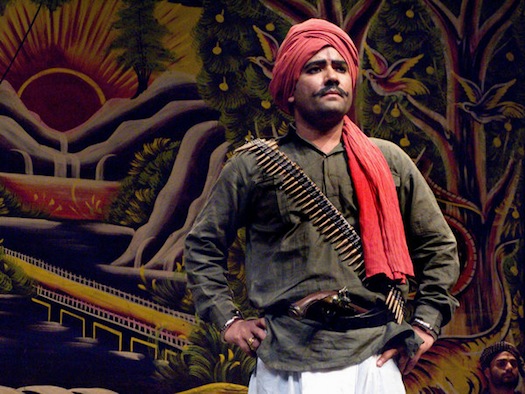 Dr. Sharma as Sultana in Nautanki "Sultana Daku"
Photo credit: Lonny Shavelson
In March 2010, he was invited by the Asian Heritage Foundation to an international conference-workshop in New Delhi to talk about the situation of folk art traditions and their place in the contemporary global community, and give a Nautanki performance. The workshop was attended by top scholars, performers, and intellectuals from South Asia and all over the world, including Shyam Benegal, the renowned Indian film-maker, Kapil Sibbal, the Indian National Minister for Education and Human Resources, and Ms. Ila Bhatt, the well-known social worker from India who started the first union for self-employed women in India.
In 2007-08, Dr. Sharma was the Chief Creative Consultant to the Joint United Nations Programme on HIV/AIDS (UNAIDS) in India. In this capacity, he designed a folk media communication campaign to spread awareness on HIV/AIDS. From 1999-2004, he helped Johns Hopkins University Center for Communication Programs (JHU/CCP) and the government of India to create a massive folk media campaign for women's empowerment and health in the Indian state of Uttar Pradesh. Working through his non-profit organization, Brij Lok Madhuri (an NGO using folk theater and music for social change, which he co-founded with his father and renowned folk artist, Pandit Ram Dayal Sharma), Dr. Sharma trained over 150 folk troupes to stage more than 10,000 folk performances.