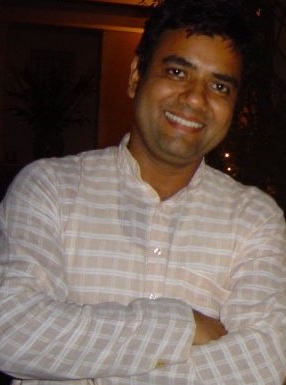 Dr. Devendra Sharma is a performer, writer, and director of Swang-Nautanki, Raaslila, Bhagat, and Rasiya, the traditional musical theater genres of northern India. He belongs to a long lineage of Swang-Nautanki exponents going back at least four generations. Dr. Sharma was trained in the famous Swami-Khera Akhara (school) by world-renowned traditional guru, Pandit Ram Dayal Sharma. He has given more than 500 performances to date worldwide, and directed many films illustrating Indian folk traditions and culture. Dr. Sharma was a Packard Foundation/ Population Communication International Fellow from India at the University of Southern California's School of Cinema-Television and Annenberg School for Communication. At present, he is an Associate Professor of Communication and Performance at California State University, Fresno, USA. Dr. Sharma's artistic mission is to use the indigenous performing arts to bring critical attention to contemporary global issues and empower marginalized people.
Dr. Sharma has been invited to give numerous public lectures, conference presentations, and performances across the world, including at Columbia University, Cornell University, University of California-Berkeley, University of California-Los Angeles, University of California-Davis, Indian Institute of Technology-Delhi, Central University of Rajasthan, Department of Indian Languages and Comparative Literature-University of Delhi, Banaras Hindu University, Sophia College-Mumbai University, Foundation for Liberal and Management Education (FLAME)-Pune, TEDx Fresno State, and Population Communication International, United Nations Plaza, New York. In 2012, Dr. Sharma was a visiting professor at the Film and Television Institute of India (FTII) in Pune, teaching folk theater and its relationship with cinema. In April 2013, Dr. Sharma was invited to lecture and perform at the South Asia Institute of the University of Texas at Austin, USA. In May 2013, the School of Oriental and African Studies (SOAS) at the University of London invited Dr. Sharma to do a seminar on folk performances and communication, and conduct a workshop with its students.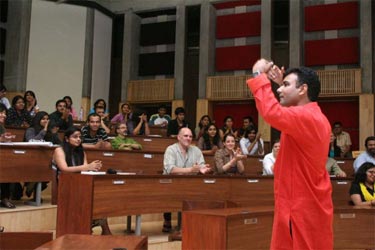 Dr. Sharma giving a presentation on Nautanki at the
Foundation for Liberal Arts and Management (FLAME)
Pune, India
Ariane Mnouchkine, the world-renowned theater director, invited Dr. Sharma in 2010 to come to Théâtre du Soleil (which she founded in 1964) in Paris, France, to give a workshop on Nautanki to her actors, and to live and absorb the ethos of her socialist theater. During the workshop, actors at the theater intensively learned the nuances of Nautanki performance, involving both acting-singing and instrument playing. As a culmination of the workshop, Théâtre du Soleil's actors performed scenes from Sultana Daku, an early 20th century Nautanki featuring a real life Robin Hood-like bandit named Sultana Daku. Dr. Sharma has also facilitated many "Participatory Theater for Social Change" workshops, such as for communication and theater students at Central Michigan University and at Ohio University.
Another recent example of Dr. Sharma's international performance work is Nautanki Mission Suhani, an original contemporary Nautanki that critically examines the phenomenon of "NRI marriages." Dr. Sharma was the director, co-writer (with his father), and one of the main actors of this Nautanki production. The impetus for Mission Suhani came from Dr. Sharma's residency at CounterPulse, a San Francisco-based theater that supports innovative performing artists and activists. After premiering in San Francisco in 2009, Mission Suhani has had a number of shows across the US and other countries.
Dr. Sharma has also been a prominent contributor to urban theater, films, and television in India. For instance, he has been one of the main singer-narrators (Faqirs) for more than 50 shows of Agra Bazar directed by renowned theater director, Habib Tanvir, with the world-famous Naya Theatre Group, starting from "Nehru Shatabdi Natya Samaroh" in 1989 and recently at the National Theatre Festival at Nehru Centre, Mumbai in 2010. Similarly, he played the character of Shri Rama in numerous shows of Mohan Upreti's directed musical Raam Leela, in addition to being an important part of productions directed by Shanta Gandhi, J.N. Kaushal, Bansi Kaul, and others.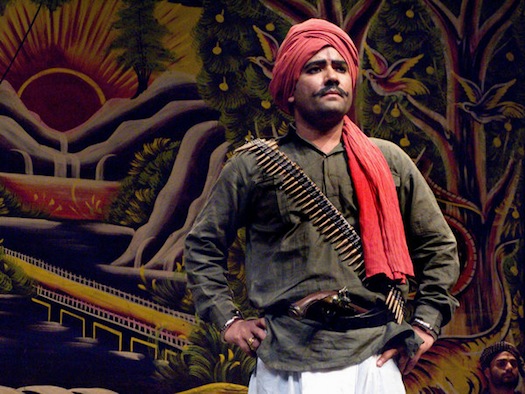 Dr. Sharma as Sultana in Nautanki Sultana Daku
Photo credit: Lonny Shavelson
Recently, Dr. Sharma directed an immensely popular original Nautanki (co-authored by him and his father) called Hanuman ki Ramayan, for the Gillo Theatre group in Mumbai. Hanuman ki Ramayan premiered at Prithvi Theater in Mumbai, where it had an immensely successful run. To date, there have been more than 15 shows of this production at various prestigious theater venues, including the National Centre for the Performing Arts (NCPA) and Tata Institute of Fundamental Research (TIFR) in Mumbai and Studio Safdar in New Delhi.
Dr. Sharma has used film and television to highlight the issues surrounding indigenous performance traditions. In 1993, he made a 16 mm feature film on the lives and struggles of Nautanki artists. The film was invited to participate at the Tokyo International Film Festival. In 2001, Dr. Sharma directed 26 episodes on Indian performance traditions for ETV and made four short films on folk performances for Zee TV (ETV and Zee TV are prominent Indian television channels). For ETV, he also directed and starred in India's first full 2-hour televised Nautanki, Syah Posh urf Pak Mohabbat. More recently (in 2013-2014), Dr. Sharma is writing a Bollywood feature film with Mr. Shyam Benegal (a renowned filmmaker from India) using the performance tradition Rasiya as a story-telling device. He also acted in Shyam Benegal's directed television series, Samvidhaan: The Making of the Constitution of India, which telecast on Rajya Sabha TV in Spring 2014. In the series, he plays Raibahadur Shyamanandan Sahay, the leader of the Indian Zamindars (landlords).
In 2007-2008, Dr. Sharma was the Chief Creative Consultant to the United Nations Joint Programme on HIV/AIDS (UNAIDS) in India. In this capacity, he designed a folk media communication campaign to spread awareness on HIV/AIDS. From 1999-2004, he helped Johns Hopkins University's Center for Communication Programs (JHU/CCP) and the government of India to create a massive folk media campaign for women's empowerment and health in the Indian state of Uttar Pradesh. Working through his non-profit organization, Brij Lok Madhuri (an NGO using folk theater and music for social change, which he co-founded with his father), Dr. Sharma trained over 150 folk troupes to stage more than 10,000 folk performances.
Dr. Sharma's research interests center on Performance and Communication; Persuasion for Social Change; Popular Culture; and Entertainment-Education Communication Strategies. His publications include book chapters in Development Communication in Directed Social Change: A Reappraisal of Theories and Approaches; Entertainment-Education and Social Change: History, Research, and Practice; Communication Activism: Media and Performance Activism, as well as numerous peer-reviewed journal articles. In 2011, Dr. Sharma won the Exemplary Syllabus Award for his graduate seminar on Strategies and Applications of Communications Research from the New England Resource Center for Higher Education (NERCHE), out of nationwide faculty nominees in the USA for the Ernst A. Lynton Award for the Scholarship of Engagement. In 2012, Dr. Sharma received the Franklin Research Grant from the American Philosophical Society to do research in the British Library, where hundreds of Nautanki manuscripts from the 19th and 20th centuries are preserved.